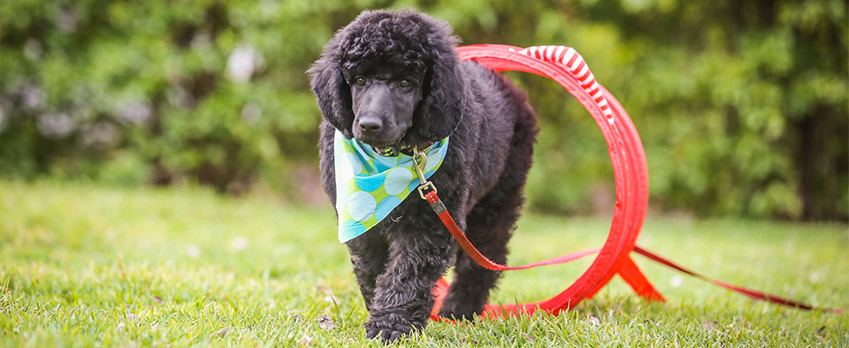 As your pup settles in and becomes part of the family, it is important that the ground rules for good behaviour are established in a positive manner. Increased understanding of the natural behaviour of dogs in the wild has shown that social behaviour patterns are learnt and established in young pups between 8 and 16 weeks of age.
Mildura Veterinary Hospital runs a series of socialisation classes, MVH Puppy School, for pups aged 8 to 14 weeks who are up to date with their vaccination schedule. You'll learn how to understand your pup's behaviour, body language and how best to communicate with him or her, helping you handle your dog more effectively while having fun. All of our methods are simple extensions of your pup's natural behaviour patterns. Training a puppy can be both a challenging and very rewarding experience. We believe that positive reinforcement training and the practical advice given in our classes will help you achieve the understanding needed to enjoy your puppy, have some fun along the journey and really fall in love with your puppy while forming a beautiful life long bond. The emphasis is on social and the classmates will get the chance to romp around and have some fun while learning basic commands, and becoming used to interacting with other dogs and people. The sessions include information on general health care for your pup and any queries that arise in the first few vital weeks, we can help you manage.
Have you ever wondered why we believe so wholeheartedly that Puppy School should be run in a Veterinary Practice environment? Simply, no pet shop or training centre can accurately simulate the smells, noise and general going on of the day to day practice. Puppies that have attended Puppy School in the Veterinary environment are often happier and calmer when attending for their lifelong appointments. Running Puppy School on our practice grounds will assist in setting your pup up for life to not be afraid of the vets or other animals in the waiting area. The pup may feel more comfortable in the environment if they are to spend time in our kennels when they may require medical attention or are recovering from surgery. This makes both theirs and your visit less stressful than it may otherwise be. When we started our Puppy School over 20 years ago, this was our backbone.
Between our trainers we have over 30yrs experience.
We can tell our puppies that have attended MVH for their training; they are the ones that bound through our front door expecting their treats and cuddles. They may have experienced needles, and thermometers up the butt, in our consult rooms in their first sixteen weeks of life but with MVH Puppy School, they have also experienced four weeks of fun, treats, cuddles and training that help counteract fear they may have if they had only 'bad experiences' in consults. We know you can teach sit, drop, stay and come at home, but we can help you make your puppy feel comfortable in a social nose to nose, or nose to butt experience, all in controlled relaxed environment. All puppies that are capable and comfortable will have direct supervised contact and play with other pups. Puppies playing with each other in a veterinary environment, what more could we, and you ask for?
Our Puppy School is overseen by Rebecca McGregor, one of our qualified nurses, and is run by veterinarians and veterinary nurses with a special interest in animal behaviour.